The following use cases demonstrate how agencies used probe data analytics and decision support tools to ensure safe, efficient movement of traffic and minimize disruption to travelers.
PennDOT: I-95 Sector A Reconstruction / Widening Project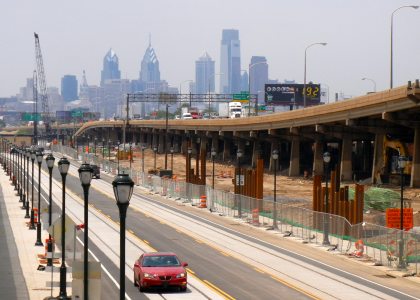 What Happened
PennDOT is working on a $2B, long-term, multi-phase initiative to rebuild and improve Interstate 95 in Philadelphia, Pennsylvania, widening the I-95 mainline for approximately nine miles and reconstructing five major interchanges.
The Delaware Valley Regional Planning Commission (a bi-state MPO) has agreed to provide planning assistance to PennDOT during the project.
The Response
DVRPC used various tool from the Probe Data Analytics Suite to help understand how traffic conditions changed with the start of the construction and to, plan, justify, and refine strategies to mitigate congestion as each phase of the project progresses.
Congestion Scan
DVRPC usd
Congestion Scan
to evaluate the impact of construction early on (late 2012) vs 2013 and 2014, when multiple sections were underway. In this example, typical NB congestion increased more than 4 times during the AM/PM peak periods.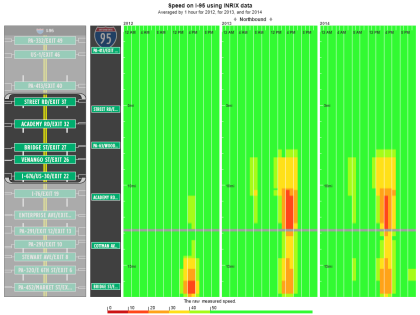 Congestion Scan was also used to evaluate and communicate the impact of incidents in work zone areas. In this example, queues extended for more than 15 miles due an accident involving a fatality.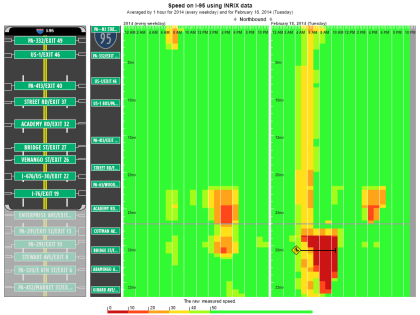 These scans were used for discussion and evaluation purposes during regularly scheduled meetings of the I-95 Incident Management Task Force, coordinated by DVRPC.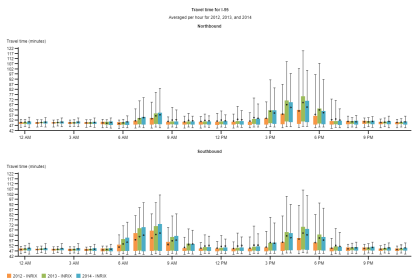 Performance Charts
DVRPC also used
Performance Charts
to illustrate the significant increases in Travel Time and Planning Time, due to the construction project.
This information helped the local PennDOT District 6 make a case to the Central Office and FHWA of the need for major transit investments, justifying a $41M flex to the area transit agency (SEPTA) for purchase of bi-level rail cars for the parallel Trenton Rail Line.
The Benefits
Using Congestion Scan and Performance Charts, DVRPC and PennDOT were able to:
Develop baseline conditions for Before & After evaluation
Clearly communicate temporal and spatial construction impacts
Show the effects that major incidents had on congestion in work zones
Justified transit funding to help alleviate work zone congestion impacts
Refine strategies to help mitigate congestion during the construction period
PennDOT: World Meeting of Families Event Coordination and Management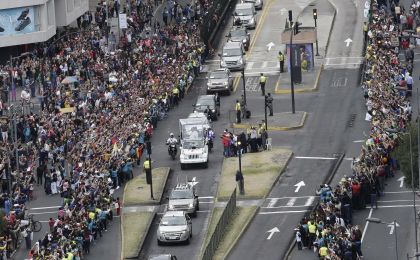 The Event
From Saturday, September 26th to Sunday, September 27th, 2015, Pope Francis attended the World Meeting of Families in Philadelphia, PA, drawing over one million people worldwide to a Festival, Prayer Vigil and Papal Mass.
The event was deemed as a National Special Security Event by Homeland Security, requiring extensive planning and coordination between regional stakeholders.
RITIS Meeting
PennDOT, the lead agency, helped form an Interagency Coordination Committee — made up of over 25 agencies — to facilitate regional transportation coordination, and selected RITIS Meeting as their decision support tool.
Here's how PennDOT prepared for, and used the tool to manage the regional transportation system during this historic event.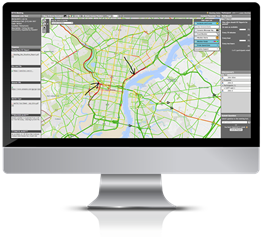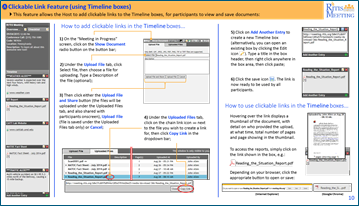 Quick Reference Guide
A Quick Reference Guide was prepared for PennDOT (meeting host) and a more streamlined version for all other meeting participants, to provide them with a complete rundown of the tool's features and functions.
Several training sessions were held to demonstrate the most likely features to be used during the event, such as the Timeline area, where Situation Reports would be posted.
Using RITIS Meeting
RITIS Meeting was stood up for 72 continuous hours, with 100% reliability. In all 33 SIT Reports were posted (1 every two hours) for discussion and available to all participants.
The probe speed data layer was used to assess traffic conditions before, during and after SIT report-outs. Only one major incident occurred in the area, well away from the event site (see inset).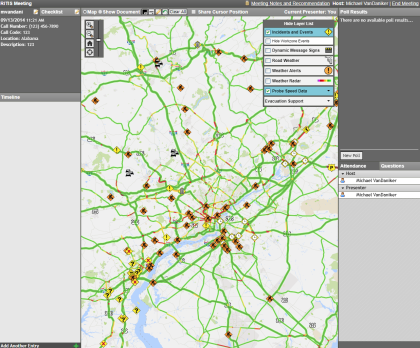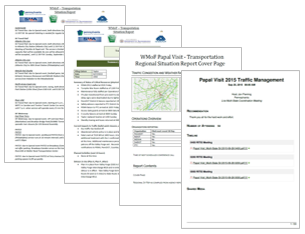 Meeting Log
Once RITIS Meeting was ended, a Meeting Log – containing any notes, shared documents and all 33 SIT Reports – was automatically generated, and a URL distributed to the meeting host and all participants.
This document was used in support of the after action review and report development.
Congestion Scan
Using Congestion Scan after the event clearly shows virtually no congestion on I-95 SB (primary route for World Meeting of Families traffic) during the event, as compared to the Fri-Sun before. This helps confirm the success of the Traveler Information Campaign used well before the event occurred.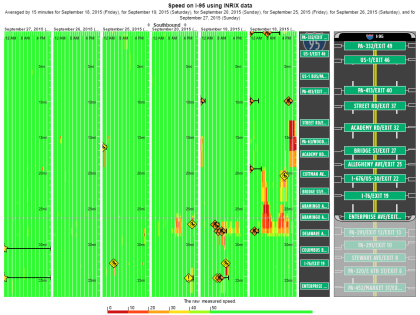 Quotes from PennDOT's Project Manager for the Event
"The use of the RITIS Meeting and the document-sharing module was incredibly successful."
"…I heard good things about the ability to share information quickly and the ability to participate with our local partners is something we have not done in past events. RITIS Meeting was a large part of that sharing opportunity."
"It was certainly nice not having to have everyone in the NASTO (Northeast Association of Transportation Officials) region's e-mail addresses to send out SIT reports."
"The open communication was invaluable as we could openly talk with the PTC (PA Turnpike Commission) as things were occurring (an accident with fatality) and see the traffic queues with both the I-95 Coalition traffic speeds website and RITIS Meeting software immediately."
Jon
Jon Fleming | Roadway Program Manager II
Emergency/Incident Management Section Chief
PA Department of Transportation

Key After Action Review Summary Points
Sec. Richards (PennDOT) good experience, went well, Gov. pleased
Info dissemination made a difference in managing the traffic
PennDOT's Dist. 4 thought RITIS Meeting was great in getting them plugged into the event