Tracking performance metrics lets you discover mobility trends: changes in speed, travel time, and numbers of incidents. With the right tools, you can identify daily or seasonal patterns and congestion hot-spots. Now you can allocate resources and prioritize project development based on real-life data.
South Carolina Department of Transportation: 2017 Total Eclipse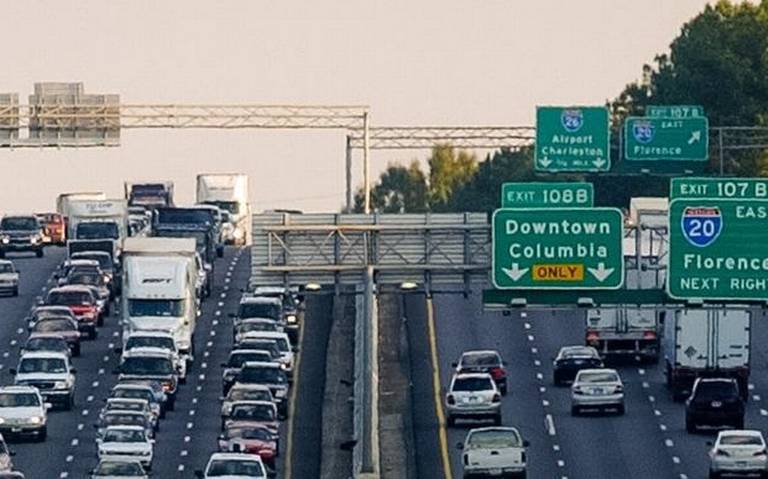 What Happened
The solar eclipse of August 21, 2017 inspired millions of people to travel to the eclipse's path of totality. South Carolina was one of those states that was plunged in total darkness.
SCDOT'S Response
The South Carolina Department of Transportation (SCDOT) anticipated substantial travel, especially on major interstates such as I-95, I-77, I-85 and I-26.
Long before the eclipse, SCDOT posted messages on electronic displays to encourage travellers to plan ahead.
SCDOT made a Traffic Management Plan to restricting roadwork, and increase patrols and other services. They also worked to prepare 511 real-time traffic information for all SC interstate highways.
CATT Lab conducted an after-action review for SCDOT to analyze its performance in easing congestion during this rare event.
Identify Areas with the Greatest Impacts to Traffic
The total eclipse arrived on the state's western border at 2:36pm and passed the Atlantic coast at 2:48pm. Four RITIS tools were used to examine the chronology of events.
Quantify & Display Various Cost and Delay Metrics
The PDA Suite provides a broad range of analytics that could be used to evaluate the traffic impacts that occurred, and gain additional insight to improve future major event traffic management and travel advisories.
Traffic Impact Key Takeaways
Significant impacts to area interstates
(I-95, I-26, I-85 and I-77)
Impacts were most severe post-eclipse,
especially between 4 PM and 9 PM
Substantial bottlenecks – some as long as 16 miles – occurred during this PM peak period on I-95
User delays and costs were also substantial